Podcast: Play in new window | Download | Embed
Subscribe: Google Podcasts | Stitcher | Email | TuneIn | RSS | More
Want to jump around? Use these time codes to visit different segments in today's episode: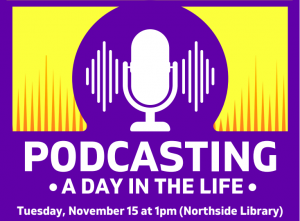 1:40 – Grow, learn, connect at JMRL (10/29-11/11) (find even more here)
3:22 – Abby's book chat: The Office BFFs by Jenna Fischer & Angela Kinsey
6:20 – EJ's book chat: Binti by Nnedi Okorafor
10:25 – Overbooked (The Glass Ocean chs. 22-24)
Join EJ and Abby at Northside Library for a live event: Podcasting: A Day in the Life on Tuesday, November 15, from 1-2 pm. Register here!
As always, please email podcast@jmrl.org with comments, suggestions, ideas, or anything else. We'd love to hear from you. 
This podcast is made possible through generous support from the Friends of the Library. If you'd like to learn more or join the friends, you can head to their website. 
Sound effects obtained from https://www.zapsplat.com.