Podcast: Play in new window | Download | Embed
Subscribe: Google Podcasts | Stitcher | Email | TuneIn | RSS | More
Want to jump around? Use these time codes to visit different segments in today's episode:
2:03 – Summer reading update 
4:35 – Louisa library spotlight 
21:00 – Coming up at JMRL (6/25-7/8/22)  
Little Did You Know: have you seen our "Newly Received Items" lists?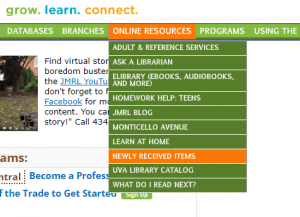 Go to jmrl.org → Hover over the "Online Resources" tab → Select "Newly Received Items"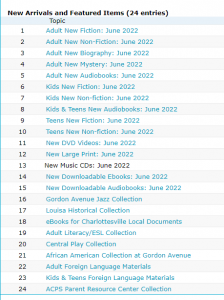 Check out our comprehensive list of items that have just been added to your local library collection! 
Summer reading update! Abby found these delicious, naturally sweetened cookies – you can even eat them for breakfast. Find the "Cook" challenge under the "Create" category. EJ enjoyed a virtual tour of the National Aquarium to fulfill an activity under "Oceans of Fun." click the links below to get 2 points on your Summer Reading Challenge. Don't forget to log your progress on Beanstack!
Be sure to read chapters 10-12 of The Glass Ocean before our next episode on July 8. Don't have time to listen to the whole podcast but still want to participate in Overbooked? Check out our Overbooked video for visuals and audio from previous discussions on JMRL's YouTube!
As always, please email podcast@jmrl.org with comments, suggestions, ideas, or anything else. We'd love to hear from you. 
This podcast is made possible through generous support from the Friends of the Library. If you'd like to learn more or join the friends please head to their website. 
Sound effects obtained from https://www.zapsplat.com