Podcast: Play in new window | Download | Embed
Subscribe: Google Podcasts | Stitcher | Email | TuneIn | RSS | More
Our next Overbooked book is (drumroll please)…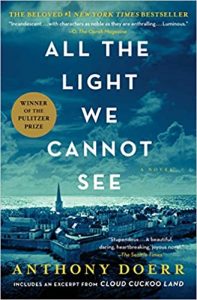 All the Light We Cannot See by Anthony Doerr 
There is no reading schedule for this book club. Just start reading – we have a feeling you won't be able to stop. Tune into our three-part discussion:
1/13
2/10
3/10
If you love this book and want to share your impressions, takeaways, memories, lessons learned, favorite moments, etc., please email us! We can set up a short meeting virtually or in person, or you can submit your thoughts through writing. Email podcast@jmrl.org for more information. 
As always, please email podcast@jmrl.org with comments, suggestions, ideas, or anything else. We'd love to hear from you. 
This podcast is made possible through generous support from the Friends of the Library. If you'd like to learn more or join the friends, you can head to their website. 
Sound effects obtained from https://www.zapsplat.com