Podcast: Play in new window | Download | Embed
Subscribe: Google Podcasts | Stitcher | Email | TuneIn | RSS | More
Want to jump around? Use these time codes to visit different segments in today's episode: 
2:05 — JMRL email newsletters
4:15 — Abby and EJ's favorite reads, most anticipated reads, and reading resolutions
23:00 — JMRL reading resolutions and favorite reads of 2022
This is our last episode of 2022. We hope you enjoyed this podcasting year as much as we did! Our Reading Resolutions episode is full of book recommendations from librarians and library staff around the region. 
Click here for a complete list of titles mentioned in this episode. Books arriving in 2023 may not be available in our catalog yet, so remember to check back often to get on those holds lists! 
Get inspired with more staff favorites – these change every month: 
Or find the BookLetters box on the jmrl.org to sign up for more bookish newsletters!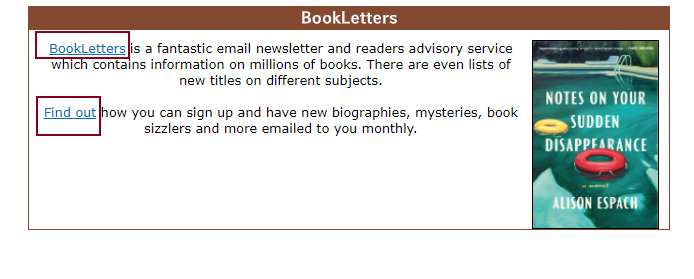 Mentioned in this episode: 
Transparent Languages Database
Resources to track your reading: 
As always, please email podcast@jmrl.org with comments, suggestions, ideas, or anything else. We'd love to hear from you. See you in 2023!
This podcast is made possible through generous support from the Friends of the Library. If you'd like to learn more or join the friends, you can head to their website. 
Sound effects obtained from https://www.zapsplat.com