Podcast: Play in new window | Download | Embed
Subscribe: Google Podcasts | Stitcher | Email | TuneIn | RSS | More
Want to jump around? Use these time codes to visit different segments in today's episode: 
1:12 – Abby's book chat, Flesh and Blood by N. West Moss 
4:17 – EJ's book chat, This Time Tomorrow by Emma Straub
10:19 – Jazzy Overbooked Announcement! Check out all of JMRL's book club kits here
13:00 – Overbooked (The Glass Ocean chs. 22-24)
39:10 – Coming up at JMRL (10/15-10/28) (find even more here)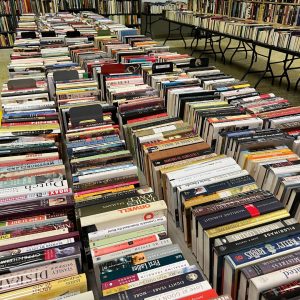 Don't forget about the JMRL Fall Book Sale, which opens to the general public tomorrow! Open daily, 10 am – 7 pm, at 300 Albemarle Square Shopping Center. 
As always, please email podcast@jmrl.org with comments, suggestions, ideas, or anything else. We'd love to hear from you. 
Anyone can enter our poetry contest – you don't have to be a "poet"! 
This podcast is made possible through generous support from the Friends of the Library. If you'd like to learn more or join the friends, you can head to their website. 
Sound effects obtained from https://www.zapsplat.com